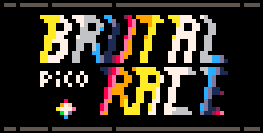 Brutal Pico Race
Brutal Pico Race is a fast and raw futurist racing game on Pico8 by yourykiki (The lurking engine)
Choose one ship out of three class, choose a track and try to finish first ! You can also challenge a friend, alone or with AI, in split-screen mode !

Brutal Pico Race features :
Single player or two players in splitscreen

3 class of ships -heavy -normal -light with different speed curve
6 tracks
3 AI levels or free ride

Controls - keyboard or gamepad :
Menu
Use arrows to choose your ship / track / AI level
Z/C/N to start
When 2 players is selected, the second player can choose his own ship directly with S/F

Game
Player 1

steering : arrow LEFT, arrow RIGHT
accelerate Z/C/N, break V/X/M
boost arrow UP

Player 2

steering : S, F
accelerate TAB/Z, brake Q
boost E

After race

up/down the chase other ships
HUD

Tricks
Be careful with boost activation, before entering a turn is not always a good idea
Health affect how often boost can be activated
You can gain some speed by using riding on the half pipe in the turns
Collision affect health and speed, so be careful you can't repair your ship in race and try not to touch other ship to maximize your speed
You can try a get a boost by staying one second behind on opponent
Thanks
Great thanks to the pico 8 community (Zep, @p01, @FSouchu, @Felice_Enellen, Morgan...), all the followers who help me on the project ! And many thanks to my wife and children for the playtests and ships/tracks contribution !

If you like this game, don't hesitate to support it ! This will help me doing more ;)
Changelog
1.0.4 : (with pico8 0.2.1)
@fsouchu subpixel polygon filling
slightly better drawing distance in 2 players mode, 12 road blocks instead of 9
drafting, stay long enough behind an opponent and get a boost
Satisfying HUD design :

formatting lap time correctly
reduce health, boost and speed bar to center the pilot face :)
1.0.3 :
We can finally die !
Fix live rank
Fix a bug where boost had not influence on centrifugal force, so now be carefull with boost spamming !
Add chronometer and timeboard (best race time per track and per AI skill)
Add 3 tracks
Add a 2 channels music for single player race
Add controls helps
Adaptive difficulty on boost, AI use less often boost when you're last or 3rd
Change ship names
1.0.2 :
Increase difficulty
3 kinds of bots
Better end screen
Changing camera after race
Other ship progress on left
Cooldown for ships collision damage
Changing track loader, room for 3 new tracks
Better boost visual fx
Fix boost sound fx in splitscreen
Change morgan3d heapsort with triplefox's shellsort
1.0.1 :
first public
Changed rasterizer for @p01
1.0 :
Download
Click download now to get access to the following files:
brutalpicorace-104_windows.zip
1 MB
brutalpicorace-104_osx.zip
3 MB
brutalpicorace-104_linux.zip
669 kB