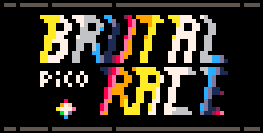 Brutal Pico Race
Brutal Pico Race is a fast and raw futurist racing game on Pico8 by yourykiki (The lurking engine)
Choose one ship out of three class, choose a track and try to finish first ! You can also challenge a friend, alone or with AI, in split-screen mode !

Brutal Pico Race features :
Single player or two players in splitscreen

3 class of ships -heavy -normal -light with different speed curve
3 tracks
3 AI levels

Controls - keyboard or gamepad :
Menu
Use arrows to choose your ship / track / AI level
Z/C/N to start
When 2 players is selected, the second player can choose his own ship directly with S/F

Game
Player 1

steering : arrow LEFT, arrow RIGHT
accelerate Z/C/N, break V/X/M
boost arrow UP

Player 2

steering : S, F
accelerate TAB/Z, brake Q
boost E

After race

up/down the chase other ships
As the pico8 cartridge has some tokens free, I'll try to add some feature.
Great thanks to the pico 8 community (Zep, @p01, @FSouchu, @Felice_Enellen, Morgan...), all the followers who help me on the project ! And many thanks to my wife and children for the playtests and ships/tracks contribution !

If you like this game, don't hesitate to support it ! This will help me doing more ;)
Changelog
1.0 :
1.0.1 :
first public
Changed rasterizer for @p01
1.0.2 :
Increase difficulty
3 kinds of bots
Better end screen
Changing camera after race
Other ship progress on left
Cooldown for ships collision damage
Changing track loader, room for 3 new tracks
Better boost visual fx
Fix boost sound fx in splitscreen
Change morgan3d heapsort with triplefox's shellsort
To come :
3 more tracks
Time board
what you thinks is important and I have room to add
death when hp<0 ? for the moment, it just affects the boost load and cooldown
2 chans music when playing ?
Download
Click download now to get access to the following files:
brutalpicorace-102-windows.zip
851 kB
brutalpicorace-102-mac.zip
1 MB
brutalpicorace-102-linux.zip
478 kB